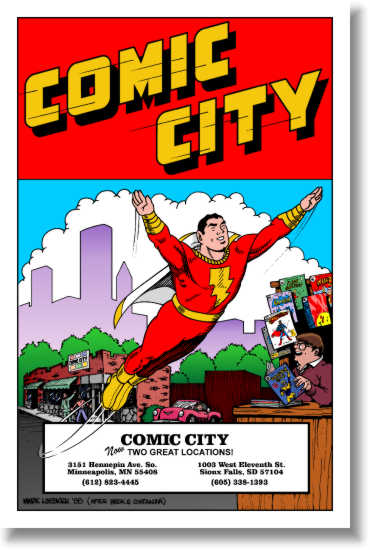 (Click the picture above to see a larger version.)
FOR A LOT OF YEARS, I DID THE OVERSTREET Price Guide ads for a handful of Minneapolis comic stores. It was a great way to earn trade (which saved me money on comics), and it was nice to be able to go into a book or comic store, pull a book off the shelf, open it up and see my work.

In early 1988 (my last year in Minnesota), Gary Sissala--the owner of Comic City--asked me to do what turned out to be the last such ad that I ever did. But as (bad) luck would have it, Gary and Comic City were going through some difficult times, and although I got paid for the job, Gary couldn't afford to place the ad in that year's Price Guide.

It was the only time that I actually got paid to draw Captain Marvel--although I'll admit that using him in the ad was my idea--and unfortunately, it never saw print.

I've had the over-sized original kicking around for the last 10+ years, and watched it deteriorate. The border tape came off and it has moisture damage along the lower edge. Fortunately, I've got a stat of it somewhere--reduced to the actual size that the ad would have run in Overstreet, with Zip-a-toned added (since it was going to run in black and white, not color), just like the one that I delivered to Gary.

But for presentation here, I scanned the damaged original, fixed it up through the magic of technology, then computer colored it to show it off as I would have liked to see it published!