The Rogues' Gallery
---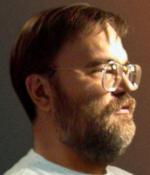 MARK LUEBKER: That's me, staring into the computer, as usual.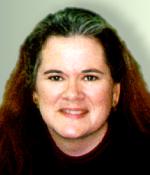 KATHLEEN FAIRFAX: She's the new Director of Study Abroad at MSU and this year's winner of the Sycamore Girl Scouts' Mary Patterson Award.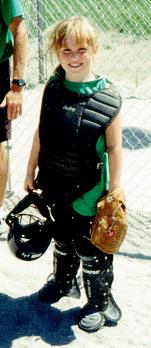 EMMY: That's Emmy in her catchers' gear during the tournament last year. We have to find a newer pic of her--one that shows her new glasses--but for now, this is one of my faves.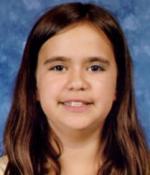 ROSIE: This is her fourth grade class picture, from Mrs. Miller's self-contained classroom. To make it really represent her, she probably should be wearing a Sailor Moon costume!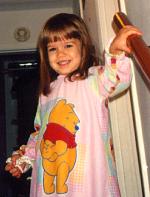 SARAH: Here's the little spud, in her Pooh-Bear PJs, coming down the stairs.

---
You can check out some of my other pages by clicking the following links:


The above link will take you to a page of photos from the annual Halloween parties that I used to have up in Minnesota.

This one will get you to a page of customized Mexican action figures.
---
Send us an e-mail!
mluebker@attbi.com
WEDNESDAY, MAY 9, 2001 UPDATE: Seems like it's time we actually got around to putting up a new version of our family page. So much is going on and so much has changed (and will be changing more, soo) that I guess it's time.
NEW DESIGN! I've been thinking about how to make our page more interesting for a while now, and this is what I finally came up with. When I get things working as planned, you'll be able to click on the photos and icons at the left to go to various other pages, ranging from my own hobby-related pages, to the girls' own home pages.

---
THE NEWS
---
WE'RE MOVING! That's probably the biggest news right now. On July 16th, Kathleen will start work as the new director of Study Abroad at Michigan State University, up in East Lansing, Michigan. She was in essentially the same position here at Purdue, but when MSU--which has the #1 study abroad program in the country, and are looking to make it even better--offered her the job (after a nationwide search), it was too good an opportunity to turn down.
East Lansing isn't a lot different than West Lafayette in terms of weather--the average temperatures are maybe a degree cooler than here--but they do get about twice as much snow. I grew up with snow, so I guess that will be tolerable, but I did tell Kathleen she'd have to buy me a snowblower!
More on this as it develops...
KATHLEEN AND THE GIRL SCOUTS: A few weeks ago, the local Sycamore Girl Scout Council awarded Kathleen its annual Mary Patterson Award, given in memory of a local scout troop leader who was so dedicated to her troop that she actually died of polio while on a camping trip with them. ("Mary's Ring" at the Sycamore Girl Scout Camp is also named in honor of Mary Patterson.) I've seen how hard Kathleen works on Girl Scout stuff, and the amount of time, effort and caring she puts into the activities for her troop, so I was thrilled to see her honored that way.
This past weekend, her troop had their spring camp-out at Sycamore--in the platform tents this time, as opposed to staying in the Troop Cabin as they did last fall. Here's her recap:
"We had fabulous weather, no injuries, and a good time, so all in all it was a success. The girls did really well with the tent sleeping, and we leaders actually got more sleep having the girls spread out in tents, than all sleeping together in a cabin, like a big (noisy) slumber party.

"The food was great -- typical Girl Scout camping fare, like chicken foil packets, banana boats, s'mores, doughboys, and toasted cheese
sandwiches made in pudgie pie makers. Those of you former Girl Scouts will probably recognize most of these! We had to haul water in big tubs and heat it over the fire every time we washed dishes, hang up our individual dishes in our "dunk bags" fastened to a rope with a clothes pin, and secure our trash in cans with bungee cords (to keep the raccoons out). And the girls did great with all that.

"One funny thing happened. The local Girl Scout camp where we stayed also has a horse stable, and offers various horse programs during the summer. On Friday night, someone didn't close the stable doors tightly, and we woke up at about 5:30 a.m. on Saturday morning to find horses all over our camp site, munching grass, nosing around in our shelter area, and pooping everywhere! I expected to deal with raccoons, spiders, even snakes, but I didn't expect to wake up to a campsite full of horses! We called the camp ranger on the emergency phone, and he came and corralled all the horses (and shoveled the horse poop!).

"It was a real family affair for us. Mark and one other dad went, so that meant little Sarah went too. She's going to have more Girl Scout camping experience at age 5 (when she actually can be a Girl Scout) than most girls do at 10! Sarah seemed to have a great time, and even was quite big about using the outdoor latrines. The latrines were pretty smelly, and whenever Sarah had to go, she'd say, "Mommy, I have to go pee on the stink."

"Sarah was also the only one that got a wood tick on her (in her ear), and she was quite brave about that too. Didn't scream or cry (which I think some of the older girls would have done!), but simply asked, "Why is that buggy in my ear?" Luckily, it was just on her outer ear, and hadn't dug in yet, so it was easy to remove.
Kathleen is sad about having to give up the troop here, but she has some great assistant leaders who have stepped up and volunteered to take it over next year. (Take a bow, Vicki and Stephanie!) And of course Kathleen has already gotten in touch with the Girl Scout council up in Lansing to see if she can find a troop up there that can use someone like her.
ROSIE IS A WINNER: Last month, Rosie was a winner in a poetry contest sponsored by the Tri Kappa Service Sorority. Each school in the area was asked to have their students write a poem on the theme, "Be True to Your School," and Rosie's poem was one of three selected from her school. Congratulations, Rosie! (Check the links at the right to see a copy of her winning effort, and the ribbon that she was awarded.)
SOFTBALL HAS STARTED: As usual, Rosie and Emmy are playing softball. This year they're both in the same league again, and as is also normally the case, their daddy is coaching them. Both girls will be strapping on the catchers' gear again this year. Rosie also is on track to play some first base, with Emmy playing some outfield.
Emmy seems to be a natural hitter--she didn't strike out once last year--and Rosie is developing switch-hitting skills, and actually even hitting a little better from the left side of the plate! It looks like it's going to be a fun season.

SARAH'S GRANDPA:

Here's something that I thought was kind of cool. For the last six months or so, with no prompting from me, Sarah has been telling us all about stuff that she does with her grandpa.

Every day it's "My grandpa told me..." or "My grandpa used to take me to..." or "My grandpa likes to..." and all variety of activities and tales about what she and he did when they were together.

At first I though she was talking about Kathleen's dad, since we'd see him pretty regularly, and had
just seen him at Thanksgiving, around the time that the stories started. But when I asked her if she meant Grandad (which is what the girls call him) and she said no, she meant her other grandpa.
I rarely talk about my dad--he died back in 1989, before any of the girls were born--so I wasn't sure what she meant. I asked her to tell me more about him--what he looked like, what he likked to do.
She started describing him--black hair, but a gray beard, likes to go fishing, etc. Well, that's kind of a description of me (except for the fishing part), but the dark hair and gray beard is also what my dad looked like in one of my favorite pictures of him. (That's it above.)
So I came down here and printed out a copy of it (we don't actually have it displayed anywhere) and she told me in a very matter-of-fact way, "Yeah, that's my grandpa."
I know there are all kinds of reasonable explanations for why that turned out to be the case, not the least of which is how suggestible a child of that age is. But I like to think that somewhere--maybe in her dreams--she and he have met and become friends.
Anyway I got her a frame for the picture and put it on her headboard, by her bed. And she still talks about her grandpa and all of their adventures, all the time.
SPRING BREAK: Over spring break, the girls went on day-trips with their friends. Below are Rosie and her friend Sami, up in Chicago (high atop the Hancock Tower) and Emmy and her friend Emily at the Children's Museum in Indianapolis.

More soon!